Plaque re-dedication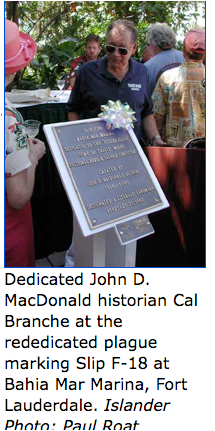 From The Islander:  Date of Issue: March 30, 2005
Sandscript (reporter's name unknown)
Pilgrimage tales of Travis McGee, 'Busted Flush,' Bahia Mar
Oct. 2 , 2004 was John D. MacDonald Day in Fort Lauderdale, and about 300 of his more avid fans were on hand to pay tribute to the late, great novelist.
MacDonald died in 1986 after writing 78 books and countless short stories. He is still regarded as the father of Florida mystery authors which came about years ago in a time when the Sunshine State was a far cry from a literary focus. There are more than 40 mystery authors with ties to Florida today.
Saturday's celebration was spurred by the rededication of a plaque at the Radisson Bahia Mar Beach Resort, fictional home of MacDonald's most enduring fictional character, Travis McGee, who fictionally lived on his houseboat "The Busted Flush" and engaged in "salvage" pursuits.
The plaque honors MacDonald's work and McGee's fictional home at the marina, slip F-18. In February 1987, a slip in the marina at Bahia Mar was named the first Florida Literary Landmark by
This year's event did not have an auspicious beginning. A pair of elderly women were waiting to register when one asked her friend if she thought Mr. MacDonald would be at the event.
"Dear, Mr. MacDonald is dead," she said.
"Oh, I hadn't heard that," was the reply.
Of course, as long as there are books, John D. MacDonald will never really die. In fact, his creativity has surpassed the written word and has entered into the realm of - gasp! - television.
Paul Levine, author of a series of Miami-based private detective novels, pointed out that the boat-bum McGee character had been captured by television through Jim Rockford in "The Rockford Files" and Thomas Magnum in "Magnum, P.I."
"Rockford was Travis, except he lived in a trailer next to the beach in California," Levine said. "Magnum was Travis, except in Hawaii. He even shared Travis's initials - T.M.
"We all steal from John D.," Levine added with reluctant nods from the other authors present."
Jim Born, a Florida Department of Law Enforcement officer and mystery novelist, described MacDonald's influence bluntly. "If it weren't for John D., I wouldn't be here."
His father gave him a copy of a Travis McGee book, "A Tan and Sandy Silence," as a child in 1974. "Through that book I developed a  love of reading and, eventually, writing, and decided to create a book myself." His first novel, "Walking Money," has been published to critical acclaim.
Randy Wayne White, who himself has been described as the contemporary MacDonald by many critics, told a story of his first meeting with the Siesta Key author in the mid-1970s.
White and three buddies were sitting at his house on Pine Island one weekday morning, talking about books, when someone brought  up the name MacDonald. White said he hadn't read any of John D.'s books, and the others started telling stories of the famous author's stories.
"You know, he just lives up the coast," someone suggested. "Let's take a boat and go see him."
"You have to remember that beer was involved," White told the audience with a laugh.
The crew headed north and, shortly after the last of the beer was gone, arrived at Siesta Key only to find that no one had a clue  where MacDonald lived. They pulled up to a little beach at the north end of the key and asked a fisherman on the shore if he happened to know where a guy named John D. MacDonald lived.
"Right there," the fisher said, pointing back to a big house with wide porches that was right where they'd pulled their boat ashore.
With that fateful event under their belts, the motley bunch started to trudge up to the door. White said a head popped out of a window, then ducked back in as they climbed the steps to the house. John D. himself invited the scruffy crew in, gave them more beer and chatted for hours.
"He couldn't have been nicer," White said.
Jonathan King also said John D. influenced his writing career. Living in Philadelphia, he read of the sun, sand and surf, the beautiful blondes and the joys of South Florida and, when he was offered a job with the Sun-Sentinel in Fort Lauderdale, jumped at the chance. That was 20 years ago, and he hasn't left - although he did leave the Sun-Sentinel last July.
He and Michael Connolly were at an author event at Bahia Mar several years ago, King said, and during a break in the proceedings they strolled down to where the original plaque was installed at the marina.
"We read the plaque," King remembered, "and then we both put our hands on it and said, 'Thank you, John.'"
I can only echo that sentiment: Thank you, Mr. MacDonald.
********************************************************************************************************