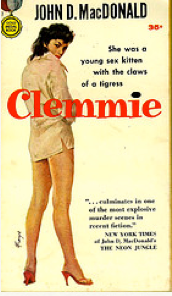 Fawcett:  1958
          She was very young. She was dangerous.
         She was a girl who lived too close to the edge of violence.
         She hunted trouble. She was an exhibitionist, a body-worshipper, a 
        sensualist.
         She was without morals, scruples, ethics. She was beautiful. 
         She was CLEMMIE . . .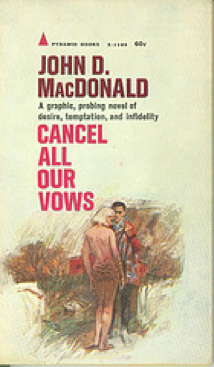 Appleton-Century Crofts: 1953
         FOR FIFTEEN YEARS THEY HAD BEEN MARRIED.
         Fletcher and Jane  Wyant. They had built a perfect marriage - -two wonderful kids, 
         a  beautiful home, their own private never-ending love affair.
         Fletcher thought he knew Jane completely. No dark secrets. No
         hidden past.
         Then one hot summer week everything changed. And suddenly,
         brutally, Jane became a cold stranger.
         CANCEL ALL OUR VOWS is a vivid, shocking novel of lawless love and
         shattering desires - -desires that bring men and women to the
         brink of disaster.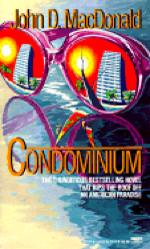 Lippencott: 1977
Welcome to Golden Sands, the dream condominium built on a weak foundation 
and a thousand dirty secrets. JDM's powerful novel is a panoramic look at the 
shocking facts of life in a Sun Belt community: the real estate swindles and political
 payoffs, the maintenance charges that run up, and the health benefits that run out,
 the crack-ups and marital breakdowns, the disaster that awaits those who play in
 the path of a hurricane.
(Note:  read this and Murder In The Wind  and you just might stay away from Florida during Hurricane season.)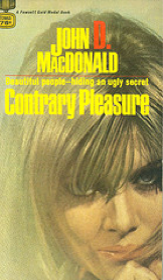 Appleton-Century:  1954   
          EVIL CASTS A LONG SHADOW . . .
         and touches the innocent along with the guilty in this powerful,
         probing novel of a family who can no longer hide from the world or
         each other.
         For years the Delevan image reflected only the best of everything
         - wealth, position, influence, and the kind of expensive good
         looks that takes generations to cultivate.
         No one dared suspect that their glittering facade, their cherished
         privacy masked hidden lusts, furtive pleasures, and twisted dreams
         which would soon erupt into a pattern of strange violence that
         threatened to destroy them all.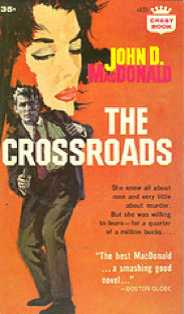 Simon and Schuster:  1959
          Anton Drovek started The Crossroads Corporation forty years ago
         with a shack and a petrol pump. Now it is a flourishing,
         still-expanding motel.
         The endless stream of trucks and cars, Maine-to-Florida and back,
         stop here while their drivers eat, sleep, fill up and roll on.
         'The crossroads is a smoothly managed oasis for the hungry
         motorist and tired trucker. It's a booming little city, owned and
         run by the tightly-knit, hard-driving Drovek family.
         But all is not smooth beneath the surface. Sylvia, Peter Drovek's
         wife, tells a young employee how he can steal Papa Drovek's
         $200,000 in cash, though she doesn't mention that it is someone
         else's cold, calculating plan.
         None of the three persons who execute the robbery knows all that
         the other two have in mind. The reader knows more than any of
         them, but even he can't foresee the final violent explosion - an
         ending which for some of the Droveks is a new beginning.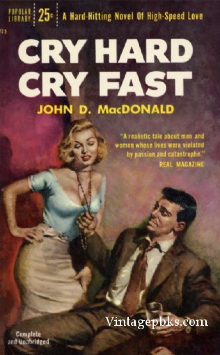 Popular Library: 1955
          A GUNMAN ON THE RUN
         A SIXTEEN-YEAR-OLD CHICK
         A USED-UP B-GIRL
         A GUILT-STRICKEN WIDOWER
         A LEFTOVER MISTRESS
         ALL ZEROING IN ON - A ROUTE TO SUDDEN DEATH
         A shattering six-car smashup is the explosive core of this head-long story.
         In typical MacDonald fashion, we are introduced to a fascinating cast of characters 
        and shown what happens to them inside and out, before, during, and after the crash.