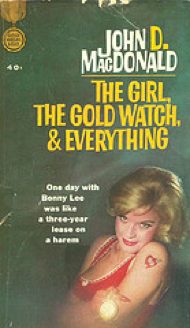 Fawcett: 1962
         Somewhere at this moment Bonny Lee and Kirby are driving some one 
         mad, and enjoying every moment of it.
         If you have ever had a yeasty yearning for complete freedom and
         complete immunity, you will covet something those two have. This
         book will tell you what to look for, and how to use it if you can
         steal it.
         Best of luck.
         In this book, John D. MacDonald turns from suspense to
         A story of fantasy . . .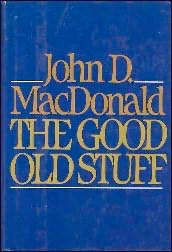 Fawcett:  1982
 JDM chose these stories after Francis Nevins and Martin Greenberg, along
Walter ,Jean Shine, and Sam Gowen's help in assembling them out  of 
hundreds of short stories he had published in the pulps between 1947 and 
1952, at the urging of Nevins and Greenberg, who thought the project would 
be very worthwhile.  Sales of the collection proved them right.
 Table of contents:
"Murder for Money"    " A Time For Dying" "Death Writes the Answer" 
 "Noose For A Tigress       "Miranda"   "Murder In Mind"
"They Let Me Live"   "Check Out At Dawn         "Breathe No More"                           
 "She Cannot Die"  "From Some Hidden Grave"   "Dead On The Pin"
" A Trap For The Careless"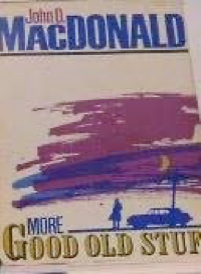 Fawcett:  1984
Sales of The Good Old Stuff proved to be so good that a second collection was published two years later in 1984.
Table of Contents:  
"Deadly Damsel"        "State Police Report That"   "Death For Sale"
" A Corpse In His Dreams"        "I Accuse Myself"  " A Place To Live"
"Neighborly Interest"     "The Night Is Over"  "Secret Stain"
"Even Up The Odds"  " Verdict"  " The High Grey Walls Of Hate"
"Unmarrried Widow"   "You Remember Jeanie"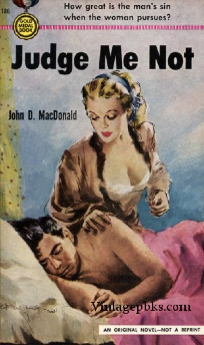 Fawcett:  1951
         She turned to face him and all the light had gone out of her blue eyes. 
        They looked dead, long buried.
         "It's only a matter of time," she said. "I know sooner or later you'll ask 
        me how I became what I am. Men seem   to have a compulsion to ask that 
        question. So let's have a pact. Don't ask me, and you won't make it 
        necessary or me to invent some tragic story to satisfy your curiosity.
         "Just take me for . . . granted," she whispered.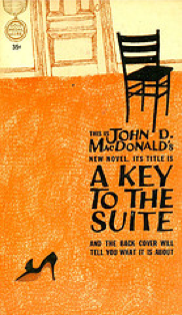 Fawcett: 1962
         In this swift and striking novel, John D. MacDonald examines the
         ferment of a big-time convention - the plots, the savage
         maneuverings, the dreadful ease with which a man or a dream can
         be  destroyed.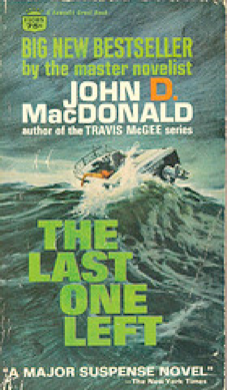 Doubleday: 1966
        MURDER AT SEA.
         NO SURVIVORS.
         NO EVIDENCE.
         NO REASON NOT TO BE $800,000 RICHER.
         Crissy Harkinson knew all about the cash that had left the Gold
         Coast of Florida, headed for the Bahamas on board a pleasure boat.
         It was Texas money—unrecorded, intended as a bribe. And there was
         enough of it left to change a dozen lives. Or end them . .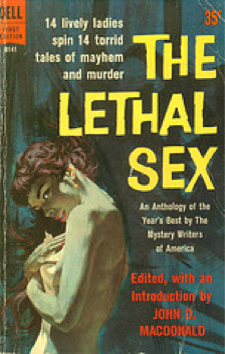 Dell, 1959
Mystery Writers of America anthology, edited, with intro by JDM