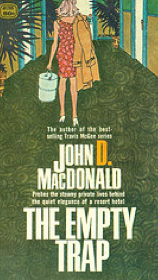 Popular Library: 1957
         Lloyd Wescott was a big boy, and he knew that big money doesn't smell like roses. When he was hired to build and run the Green Oasis, he didn't have to ask the pedigree of its owner or where the backing came from. He didn't care, as long as the place was legit and he could run it clean as a whistle.
         But just try to whistle when the Big Man moves in, when skimming is the least of what's going on in the casino, when the quiet luxury is crawling with contract guns, and when a soft, beautifulwoman - beaten to within an inch of her life - looks at you with love and fear and the desperate longing to escape . . .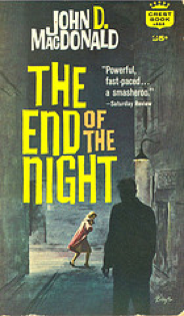 First published 1960 by Simon and Schuster
                         THE WOLF PACK MURDERS
         Three men and a beautiful girl on a cross-country terror spree - a coast-to-coast rampage of stealing, kidnapping, rape and killing.
         Who were they? Where did they come from? Why did they do it? Who were their victims?
         With chilling detail John D. MacDonald unwraps the grotesque inner world of these four drug-crazed young sadists and brings into terrifying focus those random, violent lusts that lie hidden between mischief and madness - waiting unseen for some innocent and helpless stranger at THE END OF THE NIGHT.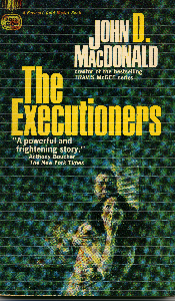 The  first edition in 1957 by Fawcett brought great reviews.  It was later re-issued under the title of Cape Fear, and the film version with Gregory Peck and Robert Mitchum was very successful.  Most JDM fans prefer this film to that released in the 90's with Robert DeNiro playing the villain.
Max Cady has spent 14 years in a cell, plotting his revenge against the man who put him there, attorney Sam Bowden.  Bowden's teen-aged daughter may be the way Cady achieves his evil aim.  There is a great deal of tension which is built by way of MacDonald's skill in writing. Cady's pursuit of the daughter is quite chilling. This is one of JDM's best novels.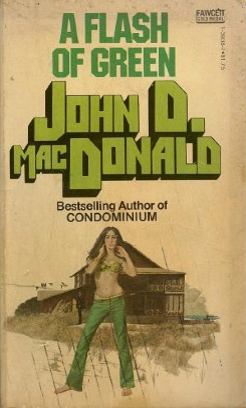 1962 by Simon and
         Schuster
A GRIPPING NOVEL OF SMALL-TOWN CORRUPTION AND TWO PEOPLE WHO FIGHT IT.
         Jimmy Wing was only trying to help his friend's 
        widow. At leasT that's what he told himself after 
        he warned Kate Hubble that the beautiful bay that
         she and her neighbors had struggled to save was
         now going to be sold to developers.  He knew he 
        shouldn't have told her anything. He was a 
        reporter, trained to reveal nothing. But he
         was falling in love with her.
         The corruptors had taken over Palm City. Silent 
        and deadly like the snakes that infested the nearby
        swamps, they lay hidden from view, waiting for 
        the right moment to strike. Political treachery
         and private greed had already softened up the
        town for the big sell-out.
     All that had to be done now was to silence a few
     stubborn citizens. Kate Hubble was one of them and
     blackmail was their favorite weapon.
Note:  This is often cited by readers as being a  MacDonald favorite. 
Also, it was adapted and directed by Victor Nunez  into a film, in 1984.  
JDM visited the film location one day and apparently felt that Nunez' interpretation was  very close to what he had in mind when writing the novel.