The Anthony Boucher Memorial Mystery Convention: the World Mystery Conference, shall be held once a year to honor the memory of William Anthony Parker White. The purpose of the conference is to provide a place for fans and practitioners in the field of mystery fiction to gather. It will be commonly referred to as Bouchercon with the appropriate sequential number appended.
Bouchercon XIV (1983) -- New York, NY
Chairs -- Otto Penzler & Chris Steinbrenner
Guest Of Honor -- John D. MacDonald
Stephen  King flew in from Maine just to introduce MacDonald as Guest of Honor.
Below,  JDM delivered some remarks on his beginnings in the pulp fiction  area  before  becoming published in paperback and hard-cover.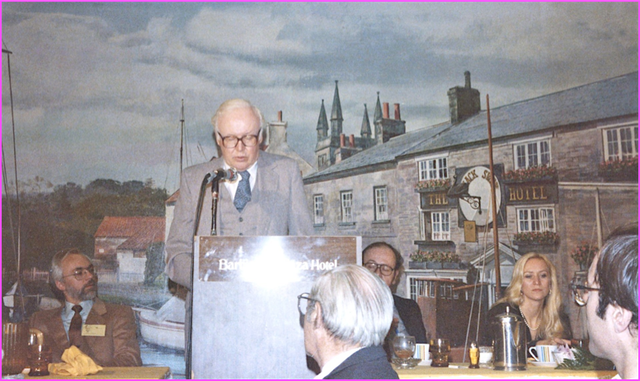 *******************************************************************************************
I was fortunate to moderate a panel on Florida crime/mystery/detective fiction at the  1997 Bouchercon.  The Bouchercon is an outstanding event where more than 3,000 fans gather each year. The event is held in various cities, and is somewhat unique in that  fans vie to host the event, and a guiding panel assigns the "victors."
Check out Bouchercon on the internet:  http://www.bouchercon.info/
FYI: past and future sites for Bouchercon, usually held in late September or early October .  
2015: Raleigh, N.C.
2014:  Long Beach, CA
2013:  Albany, N.Y.
2012:  Cleveland, Ohio
2011:  St. Louis
2010  San Francisco
2009 Indianapolis, IN
2008 Baltimore, MD
2007 Anchorage AK
2006 Madison WI
2005 Chicago, IL
2004 Toronto, ON
2003 Las Vegas, NV
2002 Austin, TX
2001 Washington, DC
2000 Denver, CO2013