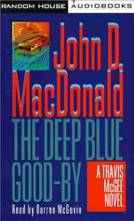 The Deep Blue Goodbye* (Fawcett Gold Medal , April 1964)
Covering a period of time between July 24,  and November, 1962.
(Originally named Dallas McGee, the name of MacDonald's hero was changed after President Kennedy's assassination. In the first of the McGee novels we are introduced to this 6"4" hero, whose business card reads:  Travis McGee: Salvage Consultant .  McGee undertakes to recover for its rightful owner money or property of which the owner has been wrongfully deprived and has no other hope of recovering, taking half its value as his fee.
McGee is a bachelor, a man who can be friends with the ladies as well as have a  passion for them. 
He is a principled  man, although they are somewhat at the mercy of his uncertain emotional condition and his circumstances at the moment; In McGee's own words, "Some of them I'll bend way, way, over, but not break."
His place of residence, is the Busted Flush (a houseboat he won in a poker game), at  slip F-18 at the Bahia Mar Marina in Fort Lauderdale, Florida.
In Deep Blue  McGee  helps Cathy Kerr, who had come under the influence of Junior Allen, one of the most evil antagonists ever penned by an author, to recover a legacy from her father. 
That legacy had been stolen by  Junior Allen , who is "cat quick", powerful, and pathologically evil.
The confrontation between the two bringsTravis face -to-face with a danger even his physical attributes may not  be able to match. 
     Nightmare in Pink* (Fawcett Gold Medal, April 1964)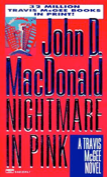 1964-- October-April 1964 
This 2nd of the Travis McGee series is place in New York City where Travis goes to help out the sister of a friend. Her fiancee has been murdered, and the 10,000 he left behind raises questions as to its origin.  The private mental hospital in which Travis finds himself under the influence of psychedelic drugs is the scene of some of MacDonald's best prose regarding the drug culure.
     A Purple Place for Dying* (Fawcett Gold Medal, May 1964)
1964
Purple Place for Dying is the third book in John MacDonald's Travis McGee series, and McGee comes upon his most troubling experience yet. McGee is brought to the Midwest by Mona Yeoman, who  suspects that her husband has pilfered her trust fund, and she wants a divorce.
 McGee's job is to find out what happened to the money.  Mona is murdered right in front of his eyes, but  her body disappears when the police are called. Travis now has to find out everything about the murder and the mystery. As usual, McGee finds himself in danger the closer he comes to the truth.
     The Quick Red Fox* (Fawcett Gold Medal, September 1964)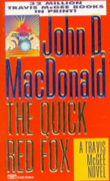 A Deadly Shade of Gold* (Fawcett Gold Medal, January 1965)
1965--February to March
 Travis is involved in helping a famed Hollywood star who is being blackmailed. He looks at the photographs the blackmailer has sent him :
    "Suddenly I knew what she reminded me of. A vixen. A quick red fox. I had seen one in heat long ago on an Adirondack morning in spring, pacing along well in front of the dog fox with a very alert and springy movement, tail curled high, turning to see if he still followed, tongue lolling from betweenher doggy grin." This is  McGee's first impression of red-haired sex symbol Lysa Dean. 
 McGee follows a trail of broken relationships and torn-apart lives while working for Lysa Dean, and the journey is typical of MacDonald's insight into modern life.
1965
 A bloody chase novel taking McGee from Florida to Mexico to LA. MacDonald has a wondrous sense of place and you can feel the sensuous breezes and see the spectacular sunsets.  In A Deadly Shade of Gold, McGee comes into possession of an evil-looking, solid gold Aztec icon that leads to a perilous fortune.
\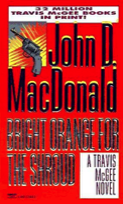 Bright Orange for the Shroud* (Fawcett Gold Medal, August 1965)
1965
  Bright Orange for the Shroud tells of a dangerous confidence scheme that traps one of McGee's friends. Soon, McGee infiltrates the group and takes on its sexy operative, with explosive results. 
      Darker than Amber* (Fawcett Gold Medal, May 1966)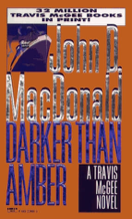 1966
McGee and his economist friend, Meyer, are  are fishing while tied up to a bridge, minding their own business, when a woman is thrown off the bridge and sinks  like a stone. in front of them. McGee dives overboard and is able to rescue the woman-despite the fact that herfeet are wired to a cement block. The woman, Vangie, turns out to be a high-priced prostitute who was involved in a scam gone bad.  
McGee and Meyer are finally able to get the gist of Vangie's story, and decide to help.  
This is the first novel where the character of Meyer, briefly on stage in earlier books, is finally fleshed-out as a character.  JDM said once that Meyer was probably closer to himself--not the character of Travis.
     One Fearful Yellow Eye* (Fawcett Gold Medal d1848, December 1966)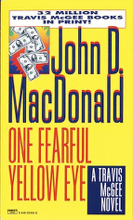 1966
       In "One Fearful Yellow Eye" John D. MacDonald presents his hero, Travis McGee ,
in perhaps his most frightening, suspenseful episodes yet. McGee, that "knight in
tarnished armor," loves helping his friends out of their troubles, especially bikini-clad
females in trouble.  Longtime friend Glory Doyle has come to McGee for help
again. It seems that someone has  "taken" over a half-million dollars from her
husband's account over the last year of his life.. McGee  suspects blackmail, but can't
seem to figure out why. 
       Pale Gray for Guilt* (Fawcett Gold Medal, January 1968)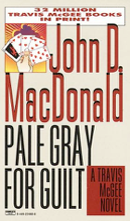 1967
  Tush Bannon, is dead, murdered by some ruthless individuals who could care less that he had a wife and three children.  It wasn't \anythng he knew or anything he had done.  He was just there.
..and  they got him, crushed him to hamburger, and walked away counting their change.  
 But one thing they never could have figured.
Tush Bannlon was Travis McGee's friend.
 *